---
---
Broken Screw Extractor is a double headed drill bits which can easily remove most of the broken screws and bolts in all works. 
Broken Screw Extractor is great for stripped, broken, stuck or damaged and screw removal. Just three step operation to remove any screw in 10 seconds or less.
This 4 piece Broken Screw Extractor set can work with any drill and any screw size or bolt, and it can be used to remove any rusty, damaged or stuck screws.
4 different size of screw extractors are included, meet the different needs, and our screw extractor are provided with plastic boxes for easy carrying.
Benefits:
✅

PROBLEM Solver : Broken / damaged screws is so hard to remove that it will cause problems to the overall works.

✅

TIME SAVER : Easily removes all broken screws in 10 seconds or less.

✅

Easy to Use : Fits most of the driller which can be found any where, simply attach to driller and use it.

✅

Easy to Carry : Broken Screw Extractor comes in set inside a plastic boxes. Its small size allowed it to be carry around easily.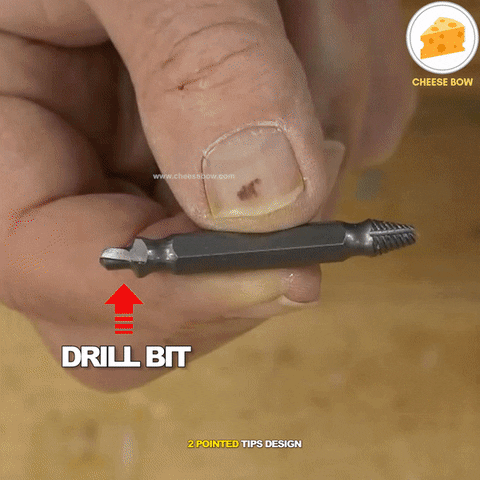 Specifications:
Condition: Brand new
Color: Silver
Material: Alloy steel + plastic box
Size: 1#, 2#, 3#, 4# (All included)
1# Remove Diameter 3-5mm
2# Remove Diameter 4-8mm
3# Remove Diameter 5-10mm
4# Remove Diameter 6-12mm
Size of Case: 8.6cm × 6cm × 1.6cm/3.39in x 2.36in x 0.63in
Package Weight: 0.08kg/ 0.18pounds

Package Includes:
4 x Broken Screw Extractors 
1 x Plastic Box

---