---
---
A GREAT TOOL FOR BODKINS
A safety pin can damage ribbon, is hard to pin through lace, and can be difficult to pull through layers of fabric. A bodkin is specially designed for this purpose, and so super easy to use. Plus, it is very inexpensive!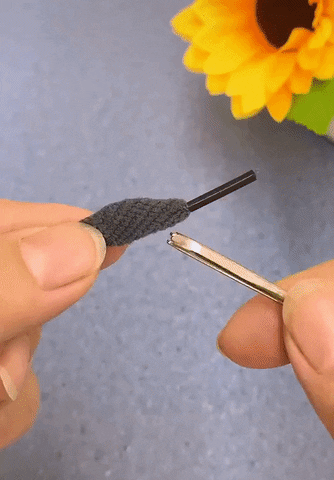 JUST LIKE A NEEDLE FOR BIG ITEMS
A casing is like a tube of fabric – If you've ever seen a pair of elastic-waist pants, the area the elastic is in is the casing. You can use a bodkin with ribbon, yarn, or elastic to slide the ring towards the folded end of the bodkin. This will open up the mouth. Place your elastic between the teeth, then slide the ring back tightly. This will secure the elastic in place.
EXPERIENCE THE DIFFERENCE
Using the bodkin like a blunt-tipped needle, thread the bodkin curved tip first into one of the holes in the casing. Glide it through the two layers of fabric to the hole on the other side.
FEATURES:
Rust-proof, sturdy and durable, it can be used repeatedly for a long time.
With easy-to-thread eye, ideal for threading eyelets and decorative trims.
Easily and quickly grab elastic holding it securely until ready for release.
Used for wearing rope, elastic belt, wool, yarnd, drawstrings and cording.
Suitable for home sewing craft projects.
SPECIFICATIONS:
Color: Silver white (As in picture)
Material: Stainless steel
Size: length 8.3 cm/3.27"
INSTRUCTIONS:
Slide ring down toward loop to open bodkin.

Insert elastic or cording between tweezers teeth.

Slide ring back toward teeth to tighten bodkin.

Slip bodkin into casing to insert elastic or cording.
TIP: Round corners of elastic to help it slide through casing easier.
PACKAGE:
1 * Clip & Glide Bodkins Sewing Tool
---